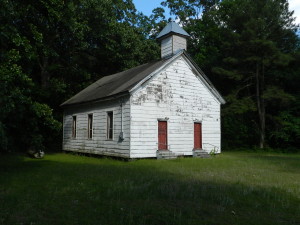 Our work week varies from day to day, which means that "boredom" is not in our vocabulary.  Our weeks go something like this….Monday … edit 30 min broadcast, Tuesday…. prepare a proposal and head out to a commercial shoot, Wednesday….design logo and develop a radio campaign…Thursday….negotiate contracts with TV stations and Friday… coordinate a photo shoot.  You get the picture… right?!
This Tuesday we had a project that required us to shoot about 6 church structures.  Even though they were spread a good distance apart, it was easy enough.  When we started out everything was going smoothly until we reached Washington, GA.  In spite of the fact that our GPS was working perfectly fine, we couldn't find the church.  After about an hour, we realized that the church name we had been given was incorrect.  Sooo, with the actual name, Mount Pleasant, we set off looking for Oscar Mills Road (that's the name of the street the kind lady in town told us it was on).  But, after about 30 minutes we discovered that there was no such thing as Oscar Mills Road!!!  The church, Mount Pleasant ( this really is the name)  was located on Quaker Springs Road (not Oscar Mills Road) in a deep curve that was hidden from view.
As we walked on the grounds, it was like taking a stroll back in time.  Mount Pleasant was small and worn, unlike the mega churches that are so common now.  But in spite of it's current appearance, it stood proudly in the wooded area with a unique beauty.  I could imagine that it was once full of life and spirit with so many stories to tell.
We were told that the property would more than likely become a cemetery.  I'm thankful that we had the opportunity to behold her beauty.
Sandra
Leave a comment